Nov 10, 2019; East Rutherford, NJ, USA; New York Giants wide receiver Darius Slayton (86) hauls in a reception in the 3rd quarter against the Jets as New York Jets strong safety Jamal Adams (33) defends at MetLife Stadium. Mandatory Credit: Robert Deutsch-USA TODAY Sports
The New York Giants suffered a disappointing and embarrassing loss on Sunday to the in-town rival New York Jets. The team overall played a pretty poor game, but there were a few individual performances to be pleased with, on offense especially.
Daniel Jones had an excellent game throwing the football with 4 touchdown passes, 0 interceptions, and 308 passing yards. He did fumble 3 times, however, it was still a game with more positive plays than negative from the rookie. Jones demonstrated strong chemistry with two of his receivers on Sunday.
Golden Tate was a reliable target for Daniel Jones, catching 4 passes for 95 yards and 2 touchdowns. Tate's production is expected as an 11-year veteran being payed
But what is not expected is for a fifth-round rookie receiver to be the most efficient and productive receiver on the team. Darius Slayton had the best game of his career so far against the Jets, but he has been quietly putting together an excellent season.
An Increased Role In The Offense
Darius Slayton's breakout performance against the Jets was directly correlated to his increased role in the offense. Slayton received a career-high 14 targets on Sunday. He caught 10 of these 14 targets for 121 yards and 2 touchdowns.
Head coach Pat Shurmur has received a lot of criticism this season for his offensive play-calling and the way he uses his players. He had been using Darius Slayton primarily as a deep threat this season, as indicated by the following Player Chart by Next Gen Stats from Week 8: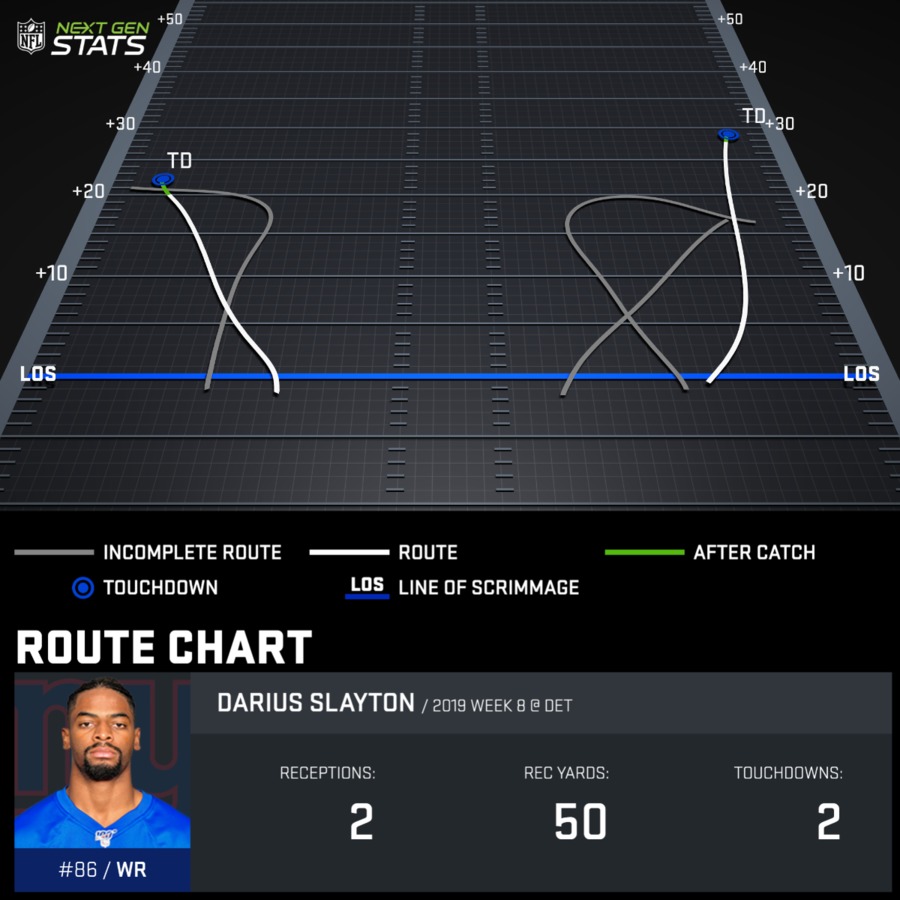 Darius Slayton's routes against Detroit were all deep routes over 15 yards. In this game, Slayton did manage to grab two impressive deep touchdown catches. However, his skill set was being limited because he was not being targeted on quick routes underneath, which he is actually pretty good at, as demonstrated on Sunday.
Here is Darius Slayton's Player Chart from Week 10 against the New York Jets. Notice, he only ran three routes 15 yards or deeper, but ran a hefty dosage of routes under ten yards, resulting in a lot of completions and one huge catch and run for a touchdown off of a slant route: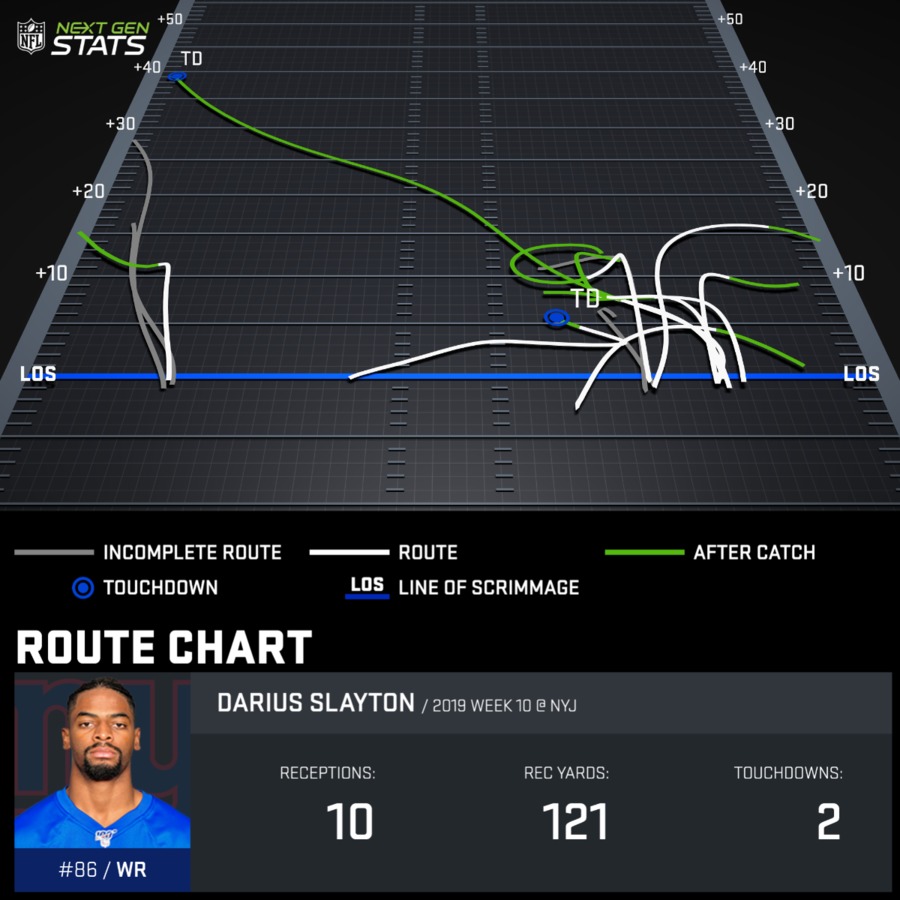 Credit where credit is due, Pat Shurmur did an excellent job of getting Darius Slayton involved in the offense. He will need to continue to get Slayton involved during the Giants' last six games of the season in order to continue the rookie's development into his second season.