Jun 6, 2018; Toronto, Ontario, CAN; New York Yankees starting pitcher Sonny Gray (55) delivers a pitch against Toronto Blue Jays in the first inning at Rogers Centre. Mandatory Credit: Dan Hamilton-USA TODAY Sports
It kind of seemed of inevitable didn't it? It was the announcement everyone expected, but no one wished for. A few days ago New York Yankees GM Brian Cashman announced Sonny Gray's spot in the rotation would be replaced by newly-acquired Lance Lynn, one day after Gray didn't get out of the 3rd inning and allowed seven-runs, before cracking a smile as he left the mound to a chorus of boos. It was ugly.
How much longer do the New York Yankees allow Sonny Gray to suffer?
Listen, I want him to succeed. Not just for the sake of the New York Yankees and their rotation stability. Not just for future meetings against the Red Sox and, quite frankly, every AL East opponent, where every loss feels like a shot through the heart. I want Sonny Gray to succeed for his own mental stability.
Constantly getting shelled, in the toughest sports city in the world, would be bad enough. Unfortunately, he also has the expectations of a trade to hold up, a trade that was highly touted as excellent around the league. So not only is it his reputation that is on the line, but Brian Cashman has to wear the ramifications of this trade as well.
I can sit here and write about how much talent Sonny Gray still has, and that is still true. Gray is highly effective when fully confident and clicking on all fronts. Right now, that isn't happening, and the stats don't lie. His last seven games see an ERA of 7.20, with 24 runs allowed in 30 innings. Not good.
Even worse is that most of his struggles come at home, which makes him an even bigger target of criticism. His home ERA is 7.71, compared to only 3.62 on the road, an incredible difference in performance.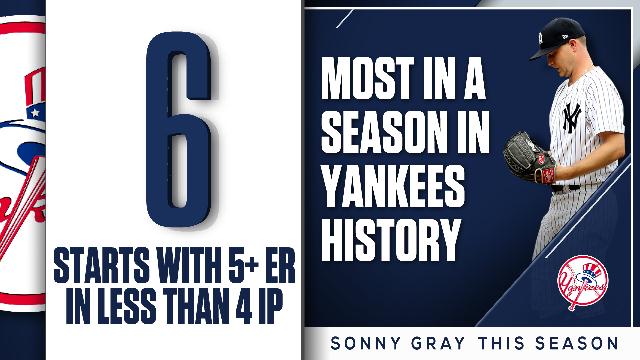 The fact of the matter is, he is pitching for his job. He is eligible for arbitration in 2019, but the Yankees could simply decide to not offer him a contract, especially if Lance Lynn is effective in his opportunity.
Smiling walking off the mound, saying you pitched well in post-game interviews when you quite clearly didn't, and shying away from criticism is not the way to get Yankee fans back on your side. Again, I hope his new role brings him success, and that he can have an impact with this club for a few more years. This is Sonny Gray's last chance to prove his worth.